On September 17th I woke up to a message from my Aunt Henny that Iohan Gueorguiev was dead.  Iohan was the bike tourer/bikepacker that inspired me that biking through a Canadian winter was possible.  My Aunt Henny was the person that I stayed with during the first wave of Covid and during my stay I had gotten her hooked on his videos.  Iohan's 2 main videos that inspired me to bike through a Canadian winter can be found HERE and HERE.  And of course, that is what I did – 4,900 kms from St John's NL to Kingston ON between November 12, 2019 and March 19, 2020.
Apparently he committed suicide on August 19th.  I was so surprised to only be hearing about this this morning for Iohan was the king of bikepacking.  If he couldn't inspire you to bike tour/bikepack than no one can.  I was surprised there was nothing on Facebook yet but within 2 days Facebook pretty much exploded with the news.  A YouTube tribute was done by another popular bike tourer.  You can find that video HERE.
Steve O'Shaughnessy's My Back 40 podcast tells the story of how everything unfolded.  It can be found HERE
For some of the best bike touring and bikepacking videos check out his channel HERE.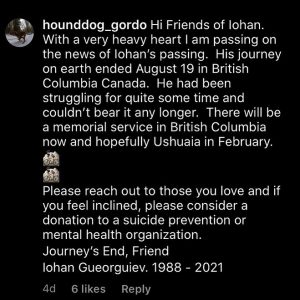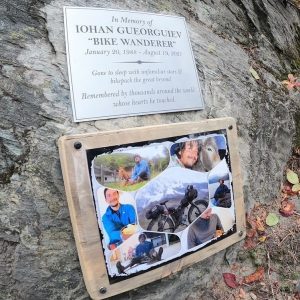 While in Vancouver about to complete my Canada crossing I did reach out to Iohan on the off chance he was in the area but he was in Bella Coola considerably north of Vancouver.