Ha Phan reached out to me on May 24 about her bike ride across Canada. On June 15 Ha left Toronto headed to Vancouver.
Since then we have remained in contact with me feeding her intel on the road ahead of her.
When Ha left Toronto I was way head of her in Nipigon ON (approx 1,200 km's down the road). While I was taking back roads to Dinosaur Provincial Park in Alberta Ha actually passed a head of me. But I was able to catch up to her in Jasper yesterday due to the time she spent hiking between Banff and Jasper.
Ha left Jasper the next morning for Vancouver so she can complete this section of Canada and catch a flight back to Toronto to bike east to complete her cross Canada bike tour.
To add to the story Ha has basically been bikepacking with the minimalist of equipment and supplies (which is crazy and a testament to her determination). It was cool to finally meet and swap stories of the road.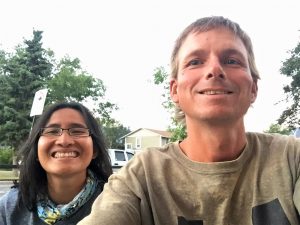 Her photo was better than mine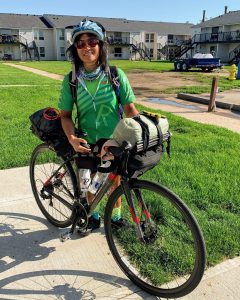 Ha's original messages on May 24, 2020
Hello, I saw your reply on a post on Biking Across Canada group. I also will start my trip on June 15 from Toronto and will wild camp mostly. Just wanna ask if you wild camp most of the time, how do you charge your electronics? Thanks.
Do you have any problem accessing tap water or do you mostly filter or boil water?
Do you hang your food bag at night? Sorry, too many questions. I'm a little bit anxious before my trip.
Thank you for the encouragement and the info.