While exploring Zacatecas I would return to Catedral Basílica de Zacatecas twice for photos.  There was too much sunshine coming through the stained glass window in the morning.  During my second visit I would run into Elton.  Elton had visited Vicente Guerrero and met Ariel who told him to look out for this Canadian cyclist heading to Argentina.  And sure enough we ended up crossing paths.
Elton is originally from Nicaragua and currently living in San Francisco.  Elton is on his own bike ride from San Francisco to Nicaragua to visit his grandmother.
The next day we agreed to meet and Elton interviewed me for his YouTube Channel.  The interview went really good.  You can view the video HERE and of course find his channel.  His Instagram name is emenselogic.
When we completed the interview, we went to what ended up being one of the coolest restaurants I have ever been to called La Leyenda. The place was completely filled by art and trinkets and apparently everything had been donated and left by artists around the world. I joked with Elton that it would cool if one of my poems were to hang on his wall. Through Elton translating the owner Roque insisted that I submit a poem. So, I sent him a link to one of my poems called I sit in the quiet. The owner Roque will send me a photo of the poem hanging on the wall in a week or so.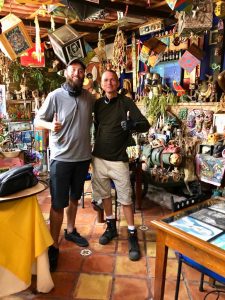 At La Leyenda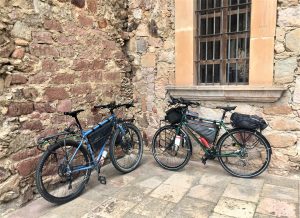 Our bikes at Museo Rafael Coronel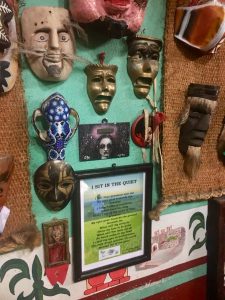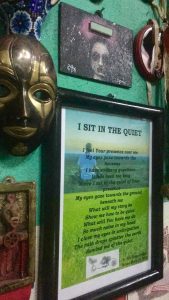 Thanks to Elton translating to the owner I was able to submit a poem to La Leyenda