July 21
Life in the jungle: Somehow my morning got away from me again!  But it didn't help that I slept like crap last night either.  I did wake up to a reply from the Labor Department regarding my work permit, but it wasn't really helpful.  It's like this lady has completely forgotten ever meeting me and in a second email later in the afternoon I was referred to as Ms.(???).  Who forgets a last name like Hoogerbrugge?
When I was ready to start working, I completed all the required chopping at the ponds.  From there I headed up to the village.  I needed to make my order for the zinc required for my new house roofing.  I also needed to upload three video "takes" I recorded for this new social media project into the cloud.  The takes were about announcing this new project to my Facebook followers.  In the village, I discovered that I had lost the Wi-Fi connection I had periodic access to.  So, I had to use my own data.  With being closer to the village internet signal it still took over an hour and a half to upload all 16 short clips.  That sort of killed the rest of my day.  I spent the last little bit of my day organizing my seedling bags.
I was finally thinking that my chronic coughing was coming to an end but it came back with a vengeance right before bed.  This could be a long night.
July 22
Life in the jungle: You guessed it, another wasted morning and well into the afternoon.  Most of the morning was wasted with back-and-forth emails with the Labor Department.  For some reason, the lady can't see my application in the online portal.  She doesn't even remember we have already met.
Due to frustration, I was prepared to just call it a day but chopping with my machete is my release and I definitely need a release.  So, I chopped pretty much until dark.  I almost got stung by four separate wasp nests plus a fifth that I spotted before getting close to the coconut tree.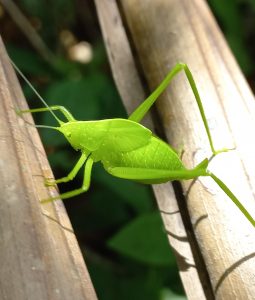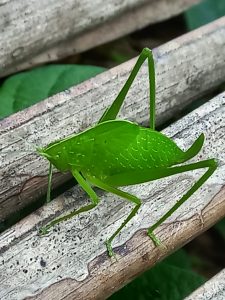 A katydid
I ended up spending my evening (until midnight) getting all my paperwork in order for my trip to Belmopan next week on Tuesday.  So much for an early wake-up tomorrow.  I need to try to get all my documents that I was counting on my idiot paralegal James to get for me.  I need to see if I can figure out what was done at the Labour Department for my work permit.  Try to pick up my corporation papers and see if my property deeds are ready for pick up.  My expectation is that I will come home Tuesday night completely empty-handed.  But I need all my paperwork together so the person behind the counter has some reference to the purpose of my being there.
There was a thundershower tonight
July 23
Life in the jungle: I think I fell asleep between 3:30 and 4 AM.  Which ended up killing my morning.  It was a late enough start to my day that I started it by heading to the hardware store to pay for my zinc roofing.  Arriving back home I chopped in the coconut field until dark.  The last two days I have gotten the worst of the chopping done.  No wasp nests today but I did get hit with two rain showers.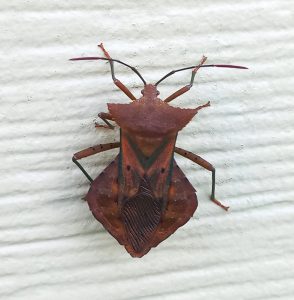 I think this is a type of stink bugs
July 24
Life in the jungle: I didn't wake up early but I didn't wake up too late either.  But I didn't wake up with any motivation either.  What is wrong with me?  What got my butt into gear was the day looked like the day might have some sun.  I figured that I better get the laundry done.  About three seconds before the finish buzzer went off it started to rain.  I wonder if this is the kind of day I can expect.
The weather was good the rest of the day.  I spent the afternoon running/attaching wire in my watermelon greenhouse for the purpose of a trellis to make the watermelon grow up and not out.  The next job for the day was to dig my septic hole for the apartment.  A call from my brother interrupted that and I barely got that job started before it got dark.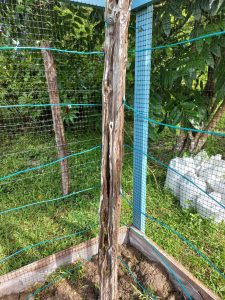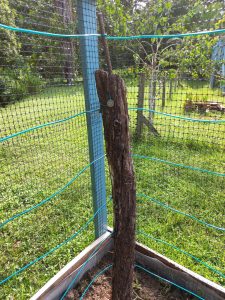 Trellis wire for my watermelon greenhouse
July 25
Life in the jungle: The day was spent digging my septic system for the apartment.  The holes for the barrels and trench for the pipe are complete.  Except for first thing in the morning, there was no rain and temperatures were nice due to cloud cover.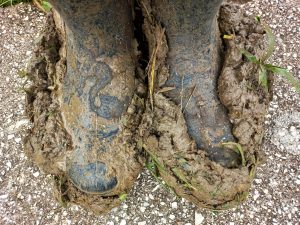 A muddy day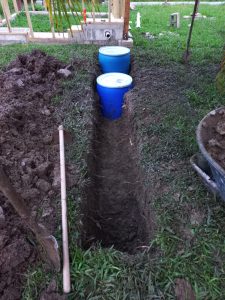 Apartment septic bed
July 26
Life in the jungle: Of course, I got no sleep last.  I'm not even sure where to start with my day.  I caught the bus to Belize City and then the next bus to Belmopan.  My first stop was to the Business Registry office.  Would you believe I had to show my vaccination card?  They informed me that there was no such corporation registered in my name and that my idiot paralegal had actually stopped by their office an hour ago.  From there I walked to the Department of Labor.  I ended up speaking with the Deputy Labor Commissioner.   When I explained my situation to her, she was speechless.  However, she was able to determine that my work permit application was tentatively scheduled for review tomorrow.  This is interesting considering my case worker in Belize couldn't even find my application a few days ago.  Not to mention with no business license my application becomes void anyway.
As a Hail Mary, I texted James telling him I had just spoken to the Department of Labor Commissioner and gave her name and that she recommended I lodge a complaint against him at the Attorney General's office.  James responded in about two seconds.  He tried to tell me he was in Orange Walk.  I said bull shit as the Business Registry guy said he saw him this morning.   He tried to tell me he went straight to OW after the registry and that he would call me at 3 PM.
From there I walked to the Lands and Survey Department and ended up speaking to the Assistant Register (a supervisor). They say there is no record of land deeds.  At 3 PM I texted James that it was now 3 PM.  He responded that he would call me in a few minutes.   At 10 minutes to 4 PM, I texted him I had waited long enough and had to catch the bus home.  But tomorrow I will be back in Belmopan to register a complaint with the Attorney General's office.  [Ultimately this paralegal has screwed me on all of my issues.  This is the true Belize.]
I uploaded about 55 videos and clips into Dropbox for the new social media project.  I went through a bit of data uploading the videos, but still cheaper than checking into a hostel for a few days for wifi.
I discovered almost the hard way that the last 6 PM bus was parked at a different location.  I walked on the bus just as it was pulling away.  If I missed that bus I would have been stuck in the city for the night.  What a day.

Glossary of Terms
Glossary of words or people that may or may not be part of this blog post.  This glossary will be at the bottom of every blog post for Belize.
Jack & Jill – These are my ex-property managers (names changed).  They are Canadian, they introduced me to Belize in 1997, sold me their house in Belize in 2003, and rebuilt my house from 2014 to 2018.  I have known them for over 30 years.  After almost 20 years of me supporting their life here in Belize Jack decided quite unexpectedly to declare "war" on me right before Christmas 2021.  They would end up stealing my business license and causing me a lot of grief.  They live on the farm, but not on my land.
Wayne – He is the son of the original owners of the farm (both owners are deceased).  The original farm was 2 – 30 acre pieces minus 2 – ¾ acre parcels for my house and 2 – ¾ acre parcels that Jack & Jill own which were all originally purchased from the original owners.  In 2017 Wayne sold me 40 acres of land from the original 60 acres (30 acres plus 10 acres).  Wayne lives in his parent's house and has a few cows on his remaining 17 acres of land.
The ponds – I have 2 large (300ft long x 50ft wide x 10ft deep) ponds on my 30 acre parcel of land which is basically jungle.  I have about 60 coconut trees (mostly mature) around the ponds.  I have plans to plant a few hundred papaya trees here plus other fruit-bearing trees around the ponds.
The coconut field – I have about 400 coconut trees planted (various growth states) on about 3 acres of cleared land of the 10 acre parcel.  I plan to add various fruit trees to the same field as soon as I can.
The river lot – my house sits on an ¾ acre lot.  I have a second joining ¾ acre lot that allows me river frontage on the Belize River.  I call that my river lot.
The dry – Belize has 2 main seasons.  The rainy season and the dry (no rain).  The wet is obviously the rainy season.
Chopping – using my machete to clear brush and unwanted trees