May 7
Life in the jungle: I started my morning chopping in coconut field.  It was a very hot morning and even a hotter day with no breeze.  I then took a walk out to the ponds.  I haven't been there in a bit and it's always good to do a security check.  I ended up collecting almost 3 large wheelbarrow loads of coconuts off the ground.
I then ended up making 3 trips to the hardware and grocery store today.  My trips to the hardware store were about getting dirt for planting more seeds and the last few pieces of lumber for my watermelon greenhouse.
Later in the afternoon after the heat had diminished some, I weed wacked a good portion of the yard right until 6 PM.  By the time I cleaned up and watered my seedlings it was almost 7 PM.  Today was a very full and exhausting day.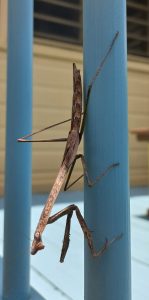 Praying Mantis
May 8
Life in the jungle: Being a Sunday morning, I took the morning to listen to the birds and monkeys from my hammock for an hour.  When I finally got moving about, I started with a laundry and pancakes.  From there I spent a good part of the day planting seeds in seed bags.  I planted cashew, orange and 3 types of tropical apples species.  I probably planted about 150 seeds in total.  I have about 50 more seeds to plant but I ran out of planting dirt.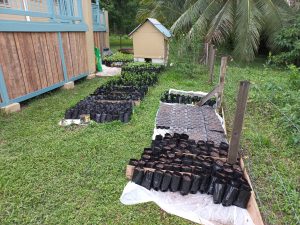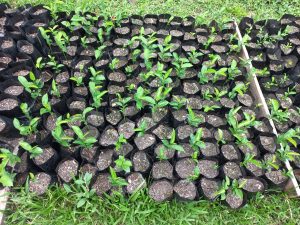 Lots of planting
Later in the afternoon I started to assemble and paint my new watermelon greenhouse.   I also hung my far fence gate in the coconut field just before dark.
May 9
Life in the jungle: I had a horrible case of insomnia last night and at 3 AM turned off my morning alarm.  I didn't sleep-in horribly late this morning.  When I did awake, I could feel that it was going to be a hot one today.  I spent most of my day painting.  I painted my watermelon greenhouse frames, the framing of my cabbage wood skirt around house and I did some touch up work around the deck.  I also took some time to inspect the accumulation of paint cans underneath the house from the various paint colors used on different parts of the house.  I spent the last hour of the day by finishing the weed wacking that I did not get finished the other day.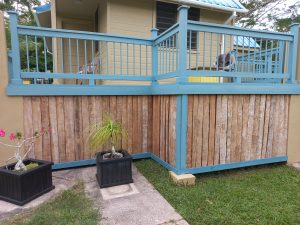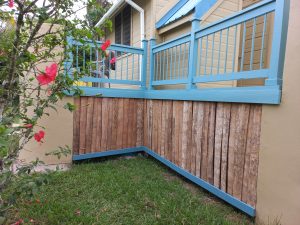 Painting the bottom skirt blue to match the deck
May 10
Life in the jungle: My morning started in the coconut field.  After breakfast I continued to painted my watermelon greenhouse framing and put a second coat of paint on the cabbage wood framing.  After a nap in the hammock, I went back to work in the coconut field.  The sooner my current cleaning sweep of the coconut field is complete the sooner I can get the bushhog in to do a proper cut of the grass and weeds.  The weather continues to be hot.  I believe May is considered one of the hottest months of the year due to no rain.
May 11
Life in the jungle: I started my morning chopping in the coconut field.  Chopping around a coconut tree there was some buzzing around my head.  I then noticed that my head had been within inches of a wasp nest.  Somehow, I didn't get stung.
After breakfast, I put another coat of paint on my watermelon greenhouse frame and then continued and finished chopping in the coconut field.  The last part of the afternoon was taking a last walk through the coconut field and staking a few mahogany seedlings (planted back in December) so whenever the bushhog shows up to cut the field he doesn't run over them.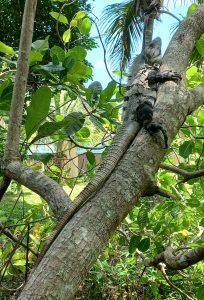 Spiny Tail Iguana in my cashew tree
May 12
Life in the jungle: Belize Immigration took an hour and 15 minutes.  Shortly thereafter I got a text from my paralegal that my work permit would cost 1,500 USD.  That is way too expensive.
Getting back home I was exhausted but I forced myself to put the last coat of paint on my watermelon greenhouse frames.  I then did some yard work and chopping at the river lot until dark.
May 13
Life in the jungle: This morning I started putting up my watermelon greenhouse.   A few hours into that job the guy with the tractor (bushhog) came to cut the grass/weeds in the coconut field.  So far, I had been able to stay on top of keeping the field in pretty good shape since his last visit at the end of November.  But the grass and weeds were getting very thick and the rainy season will be here soon.
Once I had the main frame of the greenhouse up, I decided on adding additional support to the frame.  This required a trip to the hardware store.  Reaching back home I cut the lumber accordingly and built a door.  Unfortunately, I ran out of paint putting on a first coat to these new supports.  This sucks as I was planning not to go to the city until Thursday of next week.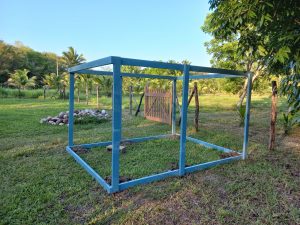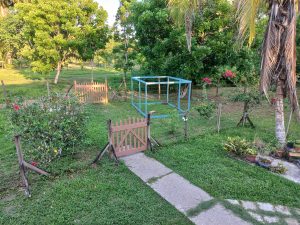 My watermelon greenhouse so far
Because of my efforts in keeping the coconut field maintained the bushhog cutting was completed in 4 hours.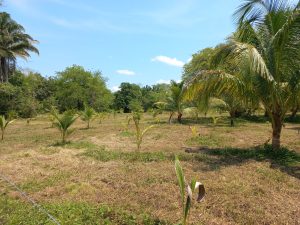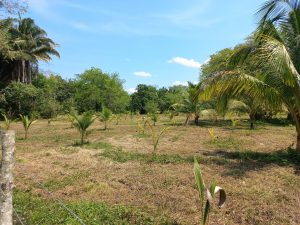 The coconut field bushogged
May 14
Life in the jungle: This morning I headed to the hardware store for some dirt.  I plan to plant some seeds tomorrow.  I spent most of the day chopping at the river lot.  I came across 2 wasp nests.  A large nest and a small one.  I found myself literally right beside the small nest.  I didn't get stung by either nest.  My allergies were really bad today.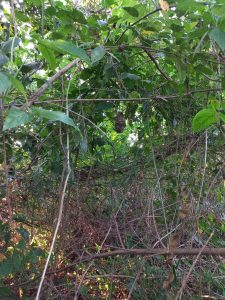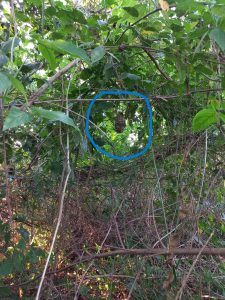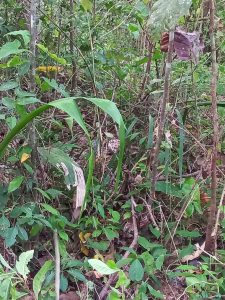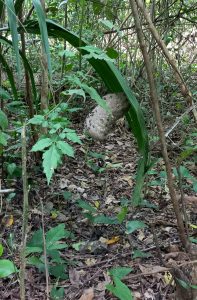 Wasps, the only creatures that actually freak me out down here
May 15
Life in the jungle: Today was all work.  I planted my remaining fruit tree seeds; I burned off some brush piles at the ponds and chopped at the river lot. I also "cleaned" a sick coconut tree.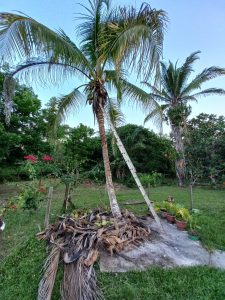 Cleaning a sick coconut tree of (upper) debris
May 16
Life in the jungle: Today was a city trip for a can of paint and to get my first (of two) cast iron pots for making coconut oil.  Upon my return to the village, I received a call from Nery.  He doesn't think he can find the lumber I need for my greenhouse.  For some time I have been trying to get Derrick (in the village) to help me build my greenhouse.  In the village, I found out that Derrick has taken on building a house, which likely means getting my greenhouse started is going to be impossible. I am so frustrated that I can't get any help from people whom I have already in the past given my good hard-earned money in the past.  I talked to Saul about making and welding my fire grill for my cooking hearth.  He also came through and delivered a bunch of lumber that I think I can make part of my hearth tables and some chicken pens.  Reaching home, I discovered that some creature went after a bunch of my papaya and jackfruit seedlings.
What am I supposed to do when I have no one to help me build my greenhouse?  I am so frustrated that I think I have made myself sick this evening.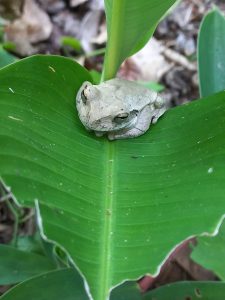 A Mexican Masked tree frog
Belize Part 24 (April 30 to May 6)
Belize Part 23 (April 24 to 29)
Glossary of Terms
Glossary of words or people that may or may not be part of this blog post.  This glossary will be at the bottom of every blog post for Belize.
Jack & Jill – These are my ex-property managers (names changed).  They are Canadian, they introduced me to Belize in 1997, sold me their house in Belize in 2003, and rebuilt my house from 2014 to 2018.  I have known them for over 30 years.  After almost 20 years of me supporting their life here in Belize Jack decided quite unexpectedly to declare "war" on me right before Christmas 2021.  They would end up stealing my business license and causing me a lot of grief.  They live on the farm, but not on my land.
The ponds – I have 2 large (300ft long x 50ft wide x 10ft deep) ponds on my 30 acre parcel of land which is basically jungle.  I have about 60 coconut trees (mostly mature) around the ponds.  I have plans to plant a few hundred papaya trees here plus other fruit bearing trees around the ponds.
The coconut field – I have about 400 coconut trees planted (various growth states) on about 3 acres of cleared land of the 10 acre parcel.  I plan to add various fruit trees to the same field as soon as I can.
The river lot – my house sits on a ¾ acre lot.  I have a second joining ¾ acre lot that allows me river frontage on the Belize River
The dry – Belize has 2 main seasons.  The rainy season and the dry (no rain).  The wet is obviously the rainy season.
Chopping – using my machete to clear brush and unwanted trees