May 2 to May 11, 2020 Bike Ride Loop to and through Algonquin Park from Kingston – 680 km's total/ 10 days on the road and 9 nights in the tent
This side ride was not recorded on Strava and was an unofficial and unpublicized ride.  And this blog post wasn't actually posted until mid June.  I did will add the kilometers and days on the road to my Ontario numbers upon exiting Ontario into Manitoba.
May 2
Km's – 77 km – up just past Sharbot Lake
Weather – Beautiful day, but started to rain as I was setting up my tent.
Comments – taking my first break along the road a snapping turtle came out to cross the road.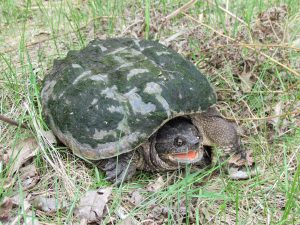 Camped in a wooded area along side a river/marsh. Frogs and toads all night. Started to rain as I set up camp. No super. Went to bed early. Tossed and turned much of the night.  Sleeping bag is no good and was a bit cold.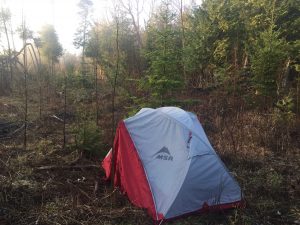 May 3
Km's – 68 km – almost to Vennachar
Weather – The morning was nice and sunny.  Relentless head winds but beautiful temperatures.  Sun burnt today.
Comments – Woke up to dozens of different bird calls and amphibians and even heard a male turkey way in the distance. Felt like I was waking up in Belize.
Along the road I came across 3 new born baby painted turtles, 1 large water snake and lots of dead ones.  A couple of Garter snakes and a couple of dead Decays snakes.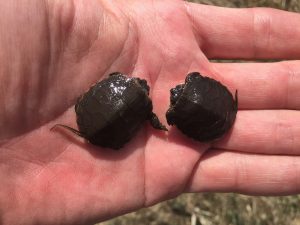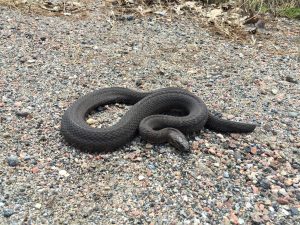 Hatchling painted turtles & a norther water snake
The hills were up and down the whole day.  Physically very tough day to day – killed me.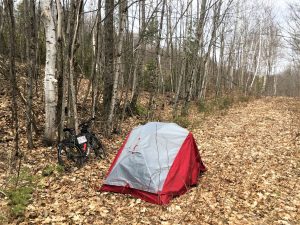 May 4
Km's – 48 km's up past Palmers Rapids
Weather – Much cooler day. Wearing gloves. Cool night. Doubled up my socks
Comments – Continued to be very hilly and windy.  Dead today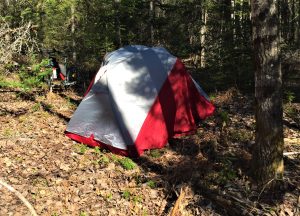 May 5
Km's – 65 km's – 11 km's east of Whitney
Weather – Super sunny with a cool breeze, but less windy and less hilly but some super hills.  Physically tough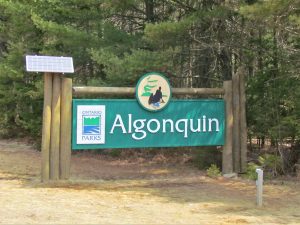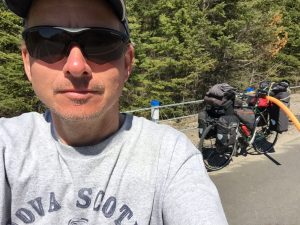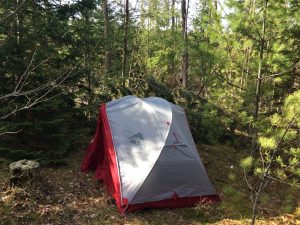 May 6
Km's – 78 km's – 4.5 km's past Algonquin Park West gate
Weather – Super sunny. Bit of a cool breeze. Lots of up and downs.
Comments – Camped just out side the park thanks to this old guy on a motor cycle.  An interesting guy who was the son of the original wolf scientists in Algonquin Park named Dr Douglas Pimlott.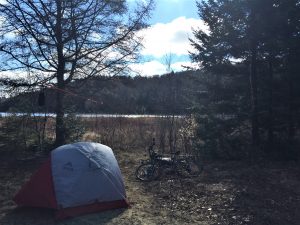 May 7
Km's – 73 km – just past Carnarvon
Weather – Much cooler temperatures with sporadic light rain and flurries all day.  Almost no breeze
Comments – An adventure guide/professor -Robin Tapley showed up this morning at my campsite (just outside the park) so I got a late start.  Very interesting guy.
Saw a beaver running on and into the water doing the tail slap thing.  Lot s of beavers were seen during this entire trip.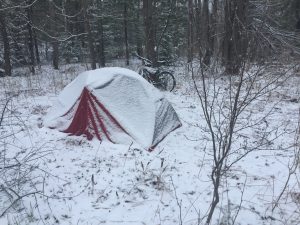 May 8
Km's – 75 km's – Camped 15 km from Bancroft
Weather – Fairly cold night as usual. Tent has some snow on it this morning and the ground was covered with snow.  This morning I was standing in the sun while it snowed.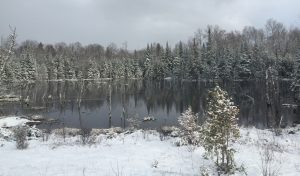 Comments – I slept horribly last night.  The idea to rethink my route hit me last night.  Fly directly yo Inuvik from Toronto and possible do both the Dempster Hwy and the Dalton Hwy.
Hit the road at 12pm.  Snowed heavy most of the day. A very wintery day. I will miss my winter sleeping bag badly tonight.
My rear derailleur froze up for first time.  Panniers covered in snow so I am using my tarp to keep the inside of my tent dry.  First time in a long time.  Finally, I felt good but a really tough day. I am cold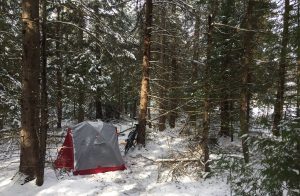 May 9
Km's – 83 km's – Camped 6.5 km's east of Madoc
Weather – Slept like total crap. Feet Very cold.  Flurries and cold until I got south of Bancroft.  Things warmed up and roads got flatter.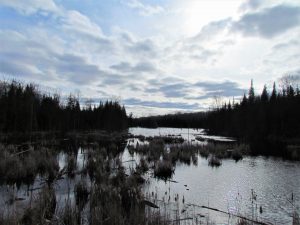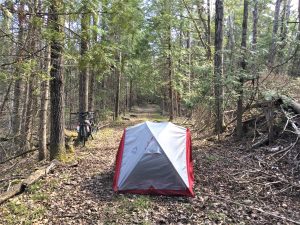 May 10
Km's – 85 km's – east of Yarker
Weather – Sunny morning, but the day cooled down and was cloudy.
Comments – Slept like crap as usual.  Pushed it into dark to get as close to Kingston as possible.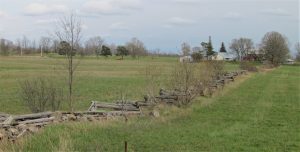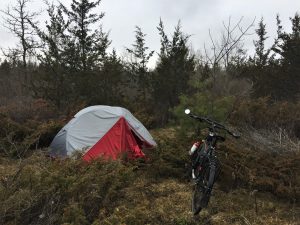 May 11
Km's – 28 km's to home
Weather – Cool and cloudy
Comments – Cooked breakfast under my tent vestibule because of light rain when I woke up.
Summary
Physically tough – very hilly and a lot of head wind.  Slept like crap most every night.  My summer sleeping bag was pretty much useless in the colder temperatures.  Started to wear my rain gear to bed to retain heat.  It took quite a few days to get into the ride even though the early days had the nicest weather.  I am glad I did the ride but in many ways I had more expectations.  Turned off social media for 7 days.  Was not that difficult.
Rethinking some of my bike packing and flying up to Inuvik from Toronto.  Even with the need to research my new routing I am not feeling very motivated.