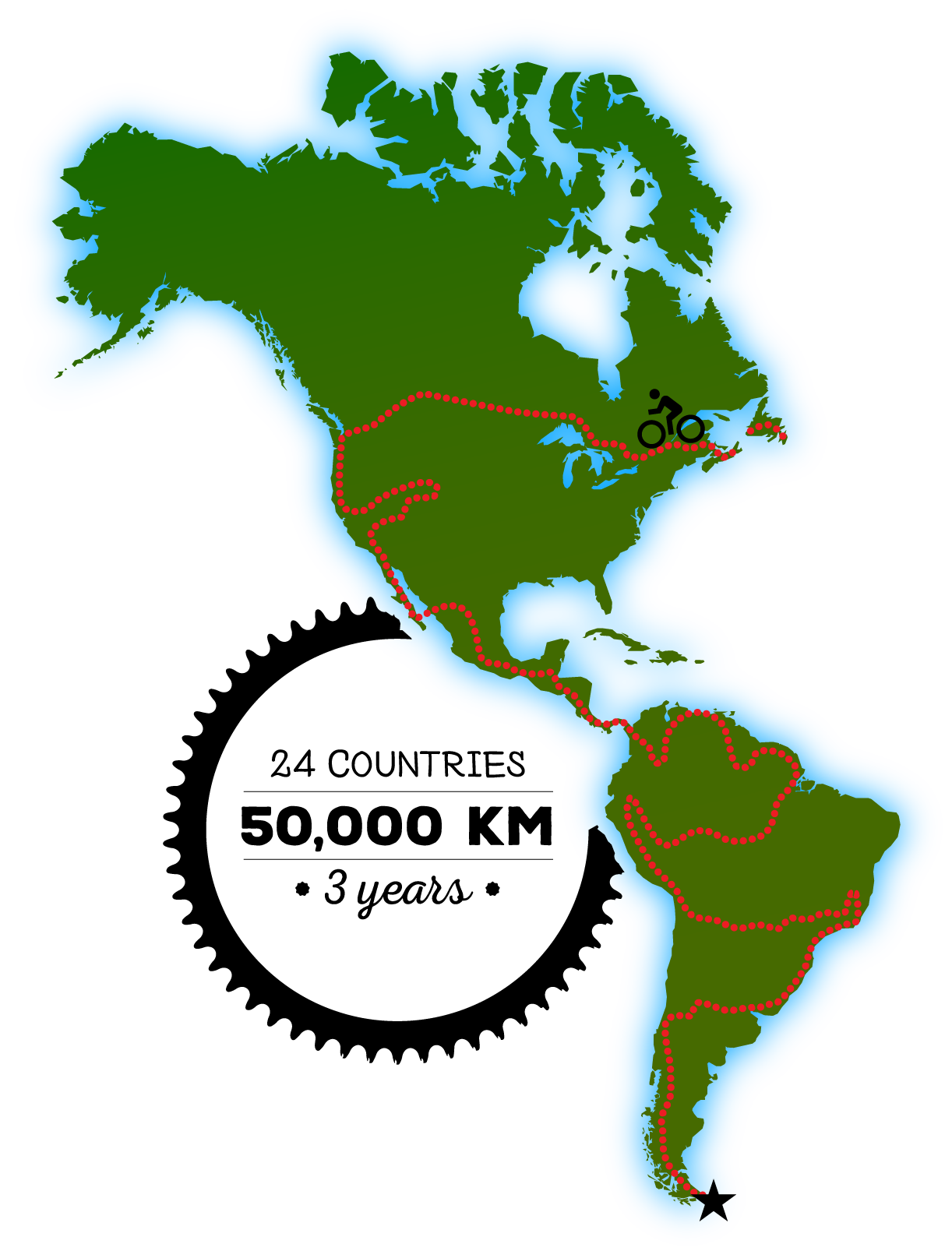 The Route Summary
This ride will be completed in two phases.
Phase 1
To bike west across Canada from St John's Newfoundland I plan to hit most all major cities across Canada to the Golden Horseshoe and then west to Edmonton Alberta from there head north west to Tuktoyaktuk in the Northwest Territories up our most northern highway, the Dempster Highway.  Upon dipping my bike wheels in the Arctic Ocean I plan to head south through Chicken Alaska down the Cassiar Highway to Terrace British Columbia and then Jasper Alberta completing Phase 1 in Vancouver British Columbia.
I started this once in a life time ride on November 12, 2019 before the start of a Canadian winter.  And I hope to complete these 15,000 Canadian kilometers in approximately 11 months (or hopefully less.)
Phase 2
Leaving Vancouver I shall travel the beautiful west coast of the United States.  Reaching California I can hardly wait to see the Giant Redwoods.  The plan is to then ride into San Francisco and then to Yosemite National Park  through on to Death Valley National Park– (one of the hottest places on the planet) and then on to Utah and then into Arizona and to The Grand Canyon – one of the most amazing geological wonders of the world.  From the Grand Canyon make my way to San Diego.
Upon reaching Mexico I would continue along the Baja California Coast.  When the road ends I will then ferry across and catch a train to Copper Canyon.  A train is required transportation to reach this canyon as there are no passable roads from the coast to a canyon that is even larger and deeper than the Grand Canyon.  The intent would be to then ride straight down the middle of Mexico to Mexico City.  I am expecting very mountainous, arid desert and isolated landscapes through much of Mexico.  I suspect that even though I have been to Mexico many times there will be some getting used to as this will be my first country outside Canada or the US on a bicycle.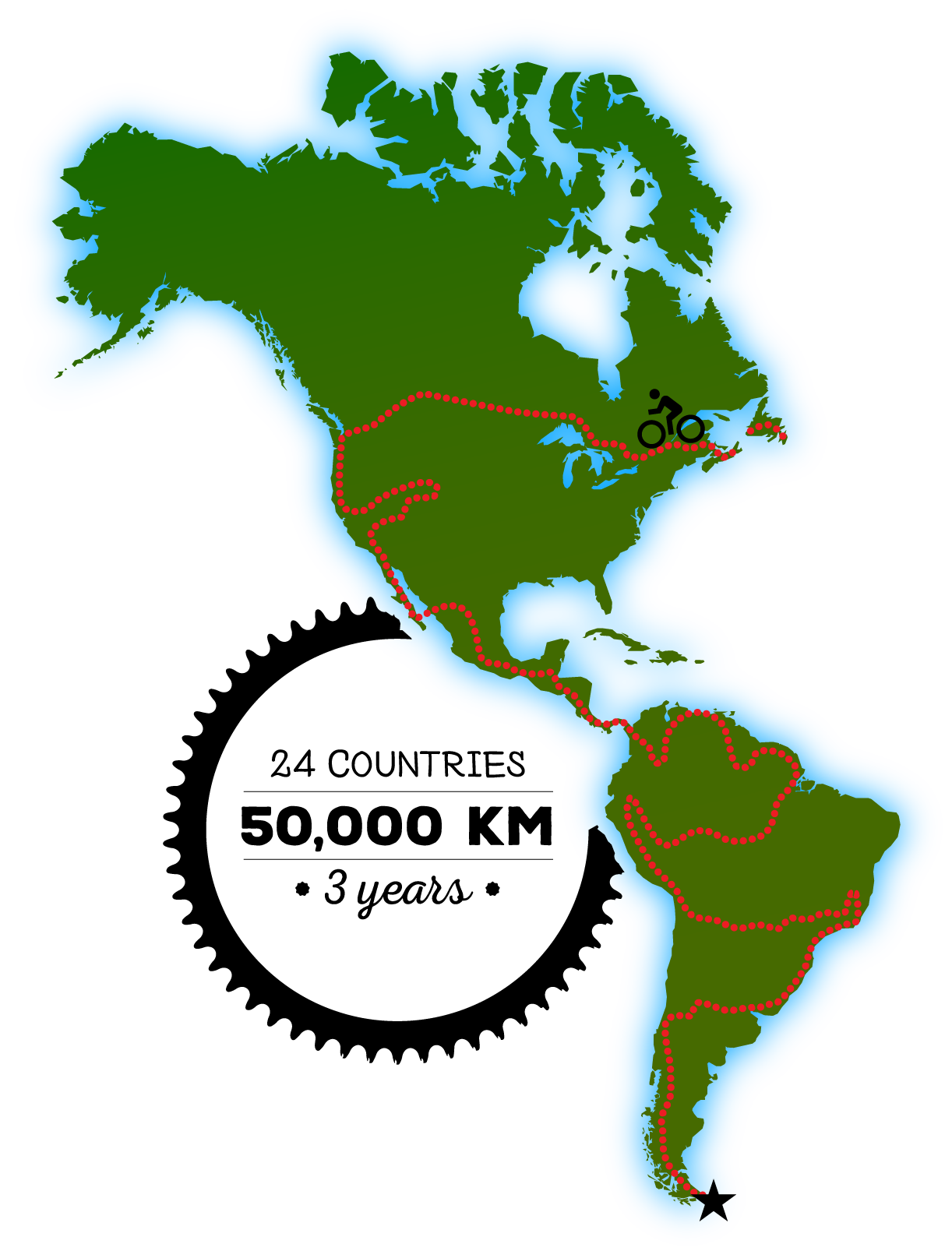 I suspect much of the Central American countries that I will ride through – Guatemala, Belize, El Salvador, Honduras, Nicaragua, Costa Rica and Panama will all provide numerous extreme challenges.  I suspect sweltering heat in extreme humid conditions that only jungles can provide will be the norm.  I can only image the mountains, poor road conditions and climate will really start to test my abilities as a cyclist if crossing Canada in the winter didn't.  Entering Belize on a bike will be so amazing for me.  Belize is a very special for me and is where my home away from Canada is .  I can hardly wait to reach Costa Rica.  There will be so many places to explore in Costa Rica such as Monteverde Cloud Forest Reserve and Tortuguero National Park which is only accessible by plane or boat.  I have to imagine seeing the Panama Canal, considered one of the seven modern wonders of the world will be my last Central American highlight.
As there is no highway from Central to South America I will look to hire a sail boat to get me to Columbia.  In my opinion no trip to South America would ever be complete without reaching the mouth of the mighty Amazon River, the second largest river in the world.  So from Columbia I will continue east to Venezuela.  Admittedly as  I write this, Venezuela has me a bit nervous given all the media in the last few years.  Hopefully things have settled down by the time I pedal through.  From Venezuela to the Island of Trinidad and then Guyana, Surinam, French Guiana into Brazil and then the mouth of the Amazon.   From the mouth of the Amazon I aim to either take a number of boats all the way up the Amazon into Peru.  Or I may also consider riding the Trans-Amazonian Highway;  a dirt road that sort of follows the Amazon River.  That decision will likely be made upon arriving at the Amazon.
From Peru I will have to ride north to Ecuador to reach the capital Quito, to visit the Equator Monument.  Turning around to head south I ride back into Peru.  A stop at Machu Picchu, the most famous icon of the Inca World would be a definite requirement.  From Peru I will ride into Bolivia.  In Bolivia I will ride what is considered one of the world's most dangerous highways – The Yungas Highway between La Paz and the town of Coroico.  Also a ride through Bolivia is never complete without a ride through the Salt Plains of Salar de Unyuni, the world's largest salt flat.  From Bolivia I ride into Paraguay to Rio De Janeiro, Brazil and then Uruguay.  Leaving the capital of Uruguay, Montevideo I will take a ferry to the capital of Argentina, Buenos Aires.  From Buenos Aires I would head for the Pacific Ocean and then zig zag my way south back and forth between Argentina and Chile all the way south to Ushuaia, Tierra del Fuego, Argentina – the southernmost city in the world.
What can I say about riding through South America?  My route will take me from the Amazon rainforest, up the Amazon River to the Andes.  I will be criss crossing the Andes, the world's longest continental mountain range through Ecuador, Peru, Argentina and Chile.  I will ride through unforgiving jungle and desert environments.   I will be riding in altitudes that will be thousands and thousands of feet above sea level.  When I think about and look at other cyclists photos of South America I am almost at a loss of words to explain or describe what I am up against.  South America will challenge me like nothing I could even imagine.
This phase two of the ride should be completed in about two years adding an additional 40,000 km's pedalled.
I will experience different cultures, different languages, extreme weather, extreme landscapes, extreme isolation and extreme beauty and wonder.  I will experience risk, adventure and danger unlike ever before in my life.   I will be required to push everything that I am to its limits.
In total this epic adventure should last about three years and have me pedal at least 55,000 kilometres in total distance.
Major Highlights
The plan is to ride over 50,000 km's and will have me cycle through some incredible areas.  The following stops would be some of the more notable highlights. By the way; to put this ride into perspective the circumference of the earth at the Equator is 40,000 kilometres around.
Phase 1  – Major Canadian Cities and Highlights
St John's NL, to Sidney & Halifax NS, to Charlottetown PEI, to St John's & Fredericton NB, to Quebec City & Montreal QC, to Kingston, Toronto, Hamilton, Sudbury & Thunder Bay ON, to Winnipeg MB, to Regina SK, and Edmonton AB.
Newfoundland
Cape Spear, St John's
Terra Nova National Park
Gros Morne National Park
Nova Scotia
Pier 21 National Historic Site
Alexander Keith's Brewery, Halifax
Prince Edward Island
Charlottetown
Fortune Bridge, My parents home
New Brunswick
Hopewell Rocks, Bay of Fundy
Reversing Falls, Saint John's
Quebec
Quebec City
Montmorency Falls
Ontario
CN Tour
Muskoka & Northern Ontario
The North West Territories
Tuktoyaktuk our most northern community accessible via road in Canada
The Dempster Highway
The Yukon
Dawson City
Alaska
Top of the World Highway (Community of Chicken)
British Columbia
The Alaskan Highway
The Cassiar Highway
Yoho National Park & Rogers Pass
Alberta
Jasper National Park to Banff National Park
Phase 2 – To the bottom of the world
Washington
Olympic National Park
Oregon
Beaches & coast
California
Redwood National Park
"Avenue of the Giants" (Numerous famous redwood trees)
Beaches & coast
Yosemite National Park
Ghost Towns
Death Valley National Park
Joshua Tree National Park
Salvation Mountain
Nevada
Area 51
Las Vegas
Hoover Dam
Utah
Route is still needs to be confirmed
Zion National Park
Bryce Canyon National Park
Arches National Park
Canyonlands National Park
Arizona
The Grand Canyon
Mexico
Copper Canyon
Michoacán's Monarch Butterfly Sanctuaries
Mexico City (& Teotihuacan Ruins)
Guatemala
Tikal
Antigua
Lake Atitlán
Belize
The Community Baboon Sanctuary (home)
Cockscomb Basin Wildlife Sanctuary the world's first jaguar reserve
Honduras
El Salvador
Nicaragua
Costa Rica
Monteverde Cloud Forest Reserve
Tortuguero National Park
Corcovado National Park
Panama
Panama Canal
sail to Colombia
Columbia
Bogota
Venezuela
Hopefully see Angel Falls
Guyana
Suriname
French Guyana
Brazil
A river trip up the Amazon to Peru
Iguazu Falls
Rio de Janeiro
Ecuador
Equator Monument
Mindo Valley
Peru
Machu Picchu
Bolivia
World's most dangerous highway – The Yungas Highway between La Paz & the town of Coroico
Salt plains of Salar de Unyuni
Paraguay
Uruguay
Argentina
Buenos Aires
Chile
Torres Del Paine
Los Glacier National Park
Patagonia
Ushuaia – Bottom of the world