While visiting the Hoodoos in Drumheller I was wondering about hosting for Calgary as I need some rear wheel hub repairs.  I put a post out to my followers.  Through a Facebook share via another fan – Richard Roussy, Josh reached out very quickly.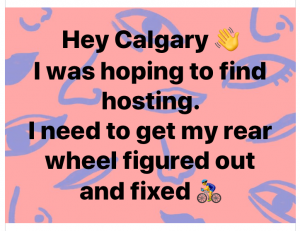 Josh was in the middle of taking a teaching job in Victoria BC and waiting for some new tenants to move into his home in Calgary on August 15.  So his schedule was wide open.
Picking up and dropping off my bike at the repair shop I was able to experience and enjoy Calgary's amazing bike trails along the Bow River.
I ended up spending five nights at Josh's place. This was an amazing opportunity to get caught up on photo editing and blogging. Those opportunities to get that caught up don't come off.